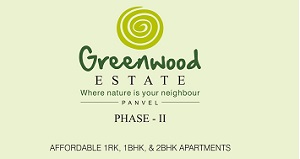 Qualcon Greenwood Estate Phase 2

by

Ecostar Qualcon Properties
Location: New Panvel, Mumbai Navi

Qualcon Greenwood Estate Phase 2 in New Panvel, Mumbai Navi
Qualcon Greenwood Estate Phase 2 is a residential project developed by Ecostar Qualcon Properties. The project offers well designed 1BHK and 2BHK apartments at very affordable prices. The project is well connected by various modes of transportation. The site is in close proximity to various civic utilities.
Location Advantages
> 9 Km From Panvel Bus Stand
> 8.8 Km From Panvel Railway
More »
Station
> 7.3 Km From D A V Public School
> 9.5 Km From International Airport
> 8 Km From MGM Hospital
> 4 Km From Taloja Railway Station
> 1.5 Km From Proposed Metro Station
> 1.4 Km From Taloja Bus Stand
> Asian largest central park and Kharghar Valley golf course lie in proximity
> Close proximity to international educational hub
Less »
Unit type & Area analysis
Top Advertisers of Qualcon Greenwood Estate Phase 2, New Panvel, Mumbai Navi
Builder:
QUALCON

1 Bed Apartment632 - 650 sq.ft.

₹

22.12 - 26.01 Lac2 Bed Apartment929 - 959 sq.ft.

₹

32.51 - 35 Lac - Studio Apartment438 - 451 sq.ft.

₹

15.78 - 16.46 Lac Oct 27, 2014
FREE
Properties in Qualcon Greenwood Estate Phase 2
18854 People Viewed this project
Loading Amenities...
Loading Map...
Qualcon Greenwood Estate Phase 2, New Panvel, Mumbai Navi Map
Loading Builder...
Greenwood Estate
Posted: 09-22-2014, 12:27 PM
ashish bhanushali
Construction Finance for Builders & Developers from Private Finance & Banks with Guarantee . We are Professionally managed firm by CAs & MBAs since last 12 years.
Reply to Topic
Qualcon Greenwood Estate Phase 2 - Quick Links:
**Project details have been provided here for information purpose only. Please contact builder/advertisers directly to know more about the project. If you have any question or want to share feedback, feel free to write to us at
projects-feedback@99acres.com
.
Trademarks belong to the respective owners.
Views expressed by the users above are their own, Info Edge (India) Limited does not endorse the same.