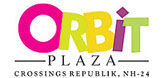 Paramount Ajnara Orbit Plaza

by

Paramount Group- Ajnara Group
Location: Crossing Republik, Ghaziabad

Paramount Ajnara Orbit Plaza in Crossing Republik, Ghaziabad
Paramount Ajnara Orbit Plaza is located in Crossing Republik NH-24, Ghaziabad. The project offers office spaces and commercial shops at very competitive and affordable price. The project is well equipped with all modern amenities and 24X7 security service to facilitate the business needs.
Project Details
Total Area: 1 Acre
Number of Floors: 10
Number of Units: 300
Nearby
More »
Bank Approved
Last updated : Nov 2014
Top Advertisers of Paramount Ajnara Orbit Plaza, Crossing Republik, Ghaziabad
Dealer:
Real Value

Office/Space320 - 840 sq.ft.Price on Request Jan 13, 2015
FREE
Dealer:
Good Luck Home Solution
17 Sale Properties in Paramount Ajnara Orbit Plaza
240 People Viewed this project
Loading Amenities...
Loading Map...
Paramount Ajnara Orbit Plaza, Crossing Republik, Ghaziabad Map
Paramount Ajnara Orbit Plaza - Quick Links:
**Project details have been provided here for information purpose only. Please contact builder/advertisers directly to know more about the project. If you have any question or want to share feedback, feel free to write to us at
projects-feedback@99acres.com
.
Trademarks belong to the respective owners.
Views expressed by the users above are their own, Info Edge (India) Limited does not endorse the same.
Scroll