Greencity Gachibowli County Phase 3

by

Greencity Estates
Location: Gachibowli, Hyderabad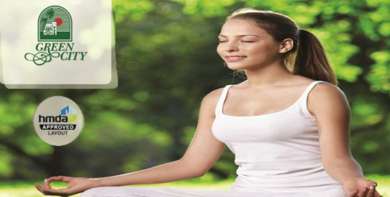 Greencity Gachibowli County Phase 3 in Gachibowli, Hyderabad
Gachibowli County is set amidst already developed and burgeoning hi-end villa communities in the neighborhood. The prestigious ICFAI campus is only five minute drive from your home. The acclaimed Indus International School is located in two-minute drive distance. Hiranandani SEZ in the neighborhood is poised for global development. Wipro X Roads with a galaxy of MNCs is 20 minutes drive through
More »
Outer Ring Road. Indian Institute of Technology and BDL are around 30 minute drive from your home.As an investment or a second home, Gachibowli County will be your best bet.
Less »
Get property alerts now!
We will inform you as soon as new property matching requirement is uploaded in 99acres
1835 People Viewed this project
Loading Map...
Greencity Gachibowli County Phase 3, Gachibowli, Hyderabad Map
Gachibowli County Phase - III
Posted: 12-11-2013, 05:57 PM
Suresh Hans
Hi, I am thinking to invest in Gachibowli County Phase - III by Greencity Estates project. I want to know price details of 2bhk and 3bhk unit here. Can I get updates about this builder and project too ?
Reply to Topic
Greencity Gachibowli County Phase 3 - Quick Links:
**Project details have been provided here for information purpose only. Please contact builder/advertisers directly to know more about the project. If you have any question or want to share feedback, feel free to write to us at
projects-feedback@99acres.com
.
Trademarks belong to the respective owners.
Views expressed by the users above are their own, Info Edge (India) Limited does not endorse the same.

[317,221,257,226,250,248,249,247,227,246,244,245,242,243,241,240,223,239,238,224,236,235,234,225,233,232,231,230,229,228,262,185,19,45,38,32,25,20,12,1]
{"317":"512,319,318,317","221":"291,359,383,345,360,293,365,294,292,364,361,362,357,363,314,350,221","257":"73,77,78,168,257","226":"280,493,455,408,483,213,281,488,214,25,282,413,358,283,429,215,226","250":"423,211,335,264,445,454,325,254,433,399,353,304,266,253,212,250","248":"195,196,248","249":"197,198,199,372,200,330,201,9,203,222,315,401,347,204,205,206,207,451,431,375,7,376,288,255,210,209,271,249","247":"183,184,247","227":"412,32,185,471,290,186,187,444,476,414,311,305,188,426,475,308,470,189,306,307,354,190,194,478,487,191,303,472,192,193,480,473,227","246":"176,276,497,402,496,277,289,296,511,299,338,177,178,503,485,179,180,468,352,378,405,432,395,450,302,342,181,246","244":"328,494,501,162,163,510,498,442,518,167,164,165,166,527,244","245":"169,491,287,502,170,336,171,316,172,173,174,175,458,411,505,245","242":"158,159,242","243":"160,161,243","241":"157,156,241","240":"154,155,240","223":"146,417,456,147,508,506,374,329,148,516,367,369,434,149,272,486,339,322,419,153,12,150,509,437,151,416,420,19,421,382,371,300,373,295,422,404,436,430,435,223","239":"140,457,351,448,141,526,142,143,418,394,145,490,521,479,515,517,144,443,239","238":"278,128,130,415,286,393,406,337,139,131,132,133,409,495,452,135,523,137,138,273,238","224":"20,118,119,482,120,440,343,438,301,121,439,122,123,127,398,124,441,125,126,392,461,380,407,224","236":"111,113,112,236","235":"279,106,107,110,465,108,109,341,235","234":"98,326,459,331,10,8,105,285,320,101,102,396,256,103,400,104,492,251,484,234","225":"45,84,368,86,87,88,425,403,90,424,97,91,321,466,92,477,428,464,463,519,453,397,348,514,93,349,94,95,96,462,381,467,225","233":"82,310,323,79,80,324,81,233","232":"74,346,76,500,386,410,507,75,388,232","231":"528,449,70,72,446,387,499,391,389,71,231","230":"69,67,447,68,230","229":"66,65,229","228":"52,64,298,522,53,54,525,38,524,344,340,309,55,513,334,297,56,57,327,332,58,333,460,60,61,62,377,63,520,228","262":"140,162,73,185,211,233,67,142,177,131,205,171,125,126,150,151,19,95,62,262","185":"185","19":"19","45":"48,49,46,47,45","38":"269,268,38","32":"35,33,34,36,32","25":"30,28,26,27,29,25","20":"23,22,21,217,252,20","12":"14,275,218,274,13,15,16,17,219,12","1":"6,220,4,2,3,5,10,9,222,8,7,1"}
{"335":"250","354":"227","10":"1","9":"1","222":"1","8":"1","7":"1","372":"249","386":"232","387":"231"}