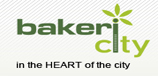 Bakeri City

by

Bakeri Engineering and Infrastructure
Location: Vejalpur, Ahmedabad West

Price:

₹

18 Lac to 46 Lac
Size: 640 - 1585 Sq. Ft. | Plans: 1 - 3 BHK | Possession: Ready to move
View properties
Bakeri City in Vejalpur, Ahmedabad West
Bakeri City of Bakeri Group is located in Ahmedabad and is in close proximity to several prestigious gated communities, reputed schools and shopping malls. The project is well equipped with all modern amenities having 1, 2 and 3BHK apartments and 24X7 security service to facilitate the needs of the residents.
A beautiful abode with culturally rich and harmonious lifestyle scattered all around.
More »
At Bakeri city, you will find the confluence of joy, happiness and serene lifestyle attained by contented experiences of its exuberant community.
PROJECT DETAILS
> No of floors: Stilt+5
PROXIMITIES
> Close to Makarba, a developing destination
> 2.6 kms away from S.G.Highway
FEATURES
> Free maintenance for 3 years from offer of possession
> Construction warranty for 13 months
> Capital protection clause
Less »
Unit type & Area analysis
Bank Approved
Last updated : Jul 2014
Properties in Bakeri City
4945 People Viewed this project
Loading Amenities...
Loading Map...
Bakeri City, Vejalpur, Ahmedabad West Map
Bakeri City Price Trend for Apartment, Vejalpur, Ahmedabad West
Embed in blog
Paste this into any HTML page:
Feedback
Disclaimer
Loading Builder...
Bakeri City - Quick Links:
**Project details have been provided here for information purpose only. Please contact builder/advertisers directly to know more about the project. If you have any question or want to share feedback, feel free to write to us at
projects-feedback@99acres.com
.
Trademarks belong to the respective owners.
Views expressed by the users above are their own, Info Edge (India) Limited does not endorse the same.