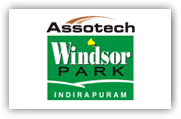 Assotech Windsor Park

by

Assotech Limited
Location: Indirapuram, Ghaziabad

Price:

₹

70 Lac to 1.7 Crore
Size: 1137 - 3250 Sq. Ft. | Plans: 2 - 4 BHK | Possession: Ready to move
View properties
Assotech Windsor Park in Indirapuram, Ghaziabad
Assotech Windsor Park is one of the residential development of Assotech Group, located in Indirapuram, Ghaziabad. It offers 2BHK, 3BHK and 4BHK spacious apartments. Project has been designed to facilitate perfect living conditions with optimum light, ventilation and privacy, coupled with fresh and green surrounding.
Project Details
Total Area: 11 Acres
Number of Floor: 24
Number of Blocks:
More »
7
Number of Units: 771
Proximity
>Little Millennium School 9 minutes
>Patanjali Arogya Kendra 9 minutes
>Safdarganj Airport 21.2 kms
>Anand Vihar Railway Station 7.8 kms
>Kaushambi Metro Station 6 kms
Less »
Unit type & Area analysis
Bank Approved
Last updated : Mar 2014
Properties in Assotech Windsor Park
3809 People Viewed this project
Loading Amenities...
Loading Map...
Assotech Windsor Park, Indirapuram, Ghaziabad Map
Assotech Windsor Price Trend for Apartment, Indirapuram, Ghaziabad
Embed in blog
Paste this into any HTML page:
Feedback
Disclaimer
Loading Builder...
Assotech Windsor Park - Quick Links:
**Project details have been provided here for information purpose only. Please contact builder/advertisers directly to know more about the project. If you have any question or want to share feedback, feel free to write to us at
projects-feedback@99acres.com
.
Trademarks belong to the respective owners.
Views expressed by the users above are their own, Info Edge (India) Limited does not endorse the same.